In collaboration with Bridget Clarebrough, Jenny Lee & Monh Ly
Our team was briefed by our client, The Centre for Inclusive Design (CFID) to design an experience for their event launch at PwC. This event celebrated the release of an Inclusive Design (ID) research report which Adobe and Microsoft jointly commissioned PwC to create. 
Our initial goal was to 

design a memorable experience that would engage guests with findings from the report about the benefits of Inclusive Design

.
Role:
Designer & Art Director
Team:
Animator, Strategist, Copywriter
Client:
 Centre for Inclusive Design
After conducting desk research, primary interviews, in-depth stakeholder analysis and user journeys we identified four key factors in our problem space.
Our initial goal for the launch
Double Diamond Methodology
Our team utilised the overarching methodology of the double diamond throughout the entire project, allowing us to work in an agile yet iterative way.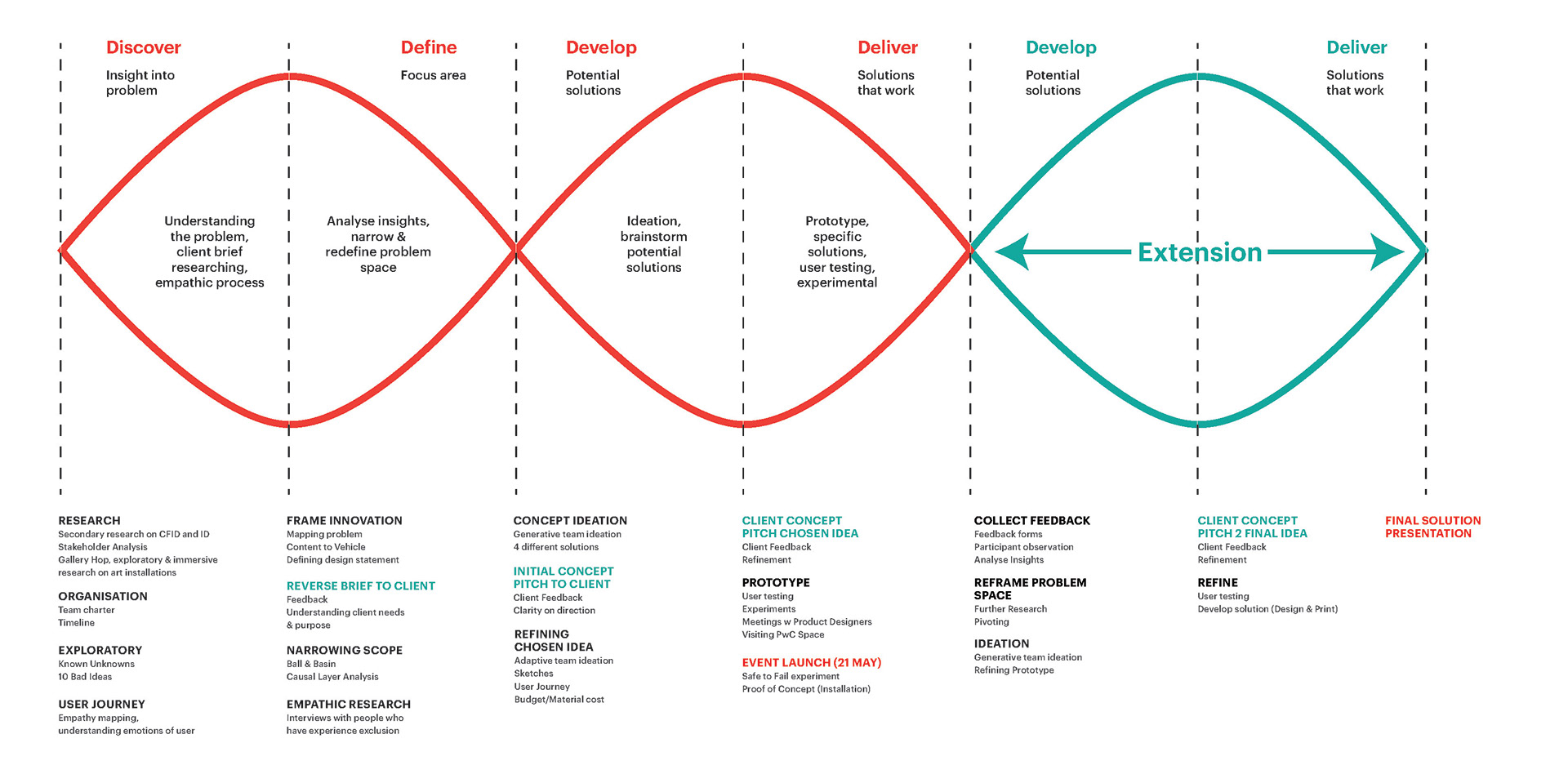 We pitched four concepts that focused on communicating the value of inclusive design through empathy. Further information about each concept can be found in our report on page 14. 
We decided upon Idea 4 as it was the most feasible given the timeframe and our skill set.
To see our prototyping and iterative design process as we developed our installation over the 10 weeks, view our report pg 18.
'Design For a Situation, Not a Disability (2019)' removes the stigma surrounding inclusive design and permanent disability by inviting empathy.
The 2.5m tall by 1.2m wide string art installation prompted audience interaction, with each card presenting a scenario that related to a permanent, temporary and situational impairment and its corresponding degree of exclusion. The situations all explored the common feeling of impairment and exclusion, highlighting how any person can experience difficulty at some point in their life, even if temporary or situational.
To ensure inclusivity, the cards were compatible with the application Seeing AI, and the installation was accompanied by a descriptive audio narration.
Nine different cards were designed, each exploring a different set of situations that demonstrated the commonalities of exclusion. The cards were then matched with statistics from the report, The Benefit of Designing for Everyone.
When users removed all cards, the message 'Design For Human' created by the woven string was unveiled to illustrate that impairment is an indiscriminate feeling that anyone can experience.
Although the installation was successful in creating a meaningful experience on the day, we identified this was only a short-term impact. The large-scale installation would be challenging for CFID to repeat on a regular occurrence due to transportability and scalability. Our idea needed to transcend these limitations, extending the longevity into a product that could be easily used multiple times by our industry partner.
Therefore we reframed and shifted our purpose:
How might we communicate our message through a different medium that would have a more long-term impact?
Our proposed recommendation is a two-step intervention in the form of a method, the 'Inclusive Method Deck' which involves the Design for Human cards and Mapping the Edge cards.
The purpose of Design For Human is to act as an ice-breaker at the initial stages of a consulting workshop held by CFID. This game invites participants to play and interact with the concepts of situational, temporary and permanent impairment, with the hope to educate the broad spectrum of ID. We have repurposed the information used on the installation cards to create a question and answer game.
We designed a following empathy building activity – Mapping the Edge. This exercise invites the client to map the pain points in relation to the card they have been given to gain an appreciation for ID. In doing so, clients would be able to empathise and gain awareness of the failures in design and how these can impact a broad spectrum of users.
The intervention was positively received by CFID, who are now utilising these cards and activities within their workshops to communicate the idea of Inclusive Design.